Commitment and Courage: Parenting the Grieving Child
"Courage doesn't always roar. Sometimes courage is the quiet voice at the end of the day saying, I will try again tomorrow".
Anonymous
Parenting the grieving child has to be one of the most difficult tasks for a mother or father. Both parenting and grieving are life events filled with heartfelt challenges. After a loved one dies, continuing to parent the children in your care can feel overwhelming. Everyone is grieving in their unique way; marked by profound needs. While you struggle with your own grief; your children need you the most and you may feel the least available to them. As you search for the courage and energy to stay committed to your children; consider the following suggestions:
Be Open and Honest:
To lessen their fears, children need to know and understand the truth about what has happened to their family. Secrets or half truths can be more harmful and add to their confusion. Keep your explanations developmentally appropriate and honest.
Be Connected:
Your child needs you to be involved in their lives. Make time to be with them; even doing simple tasks. Find small moments to have some fun; children need to experience that it is still healthy to laugh; even while grieving.
Be Expressive:
Allow for emotions to be expressed and explored. Cry in front of your children, you are demonstrating a healthy response. Children will often grieve through their play and behaviors. They need time and space to express themselves in play, art, sports, music, or writing.
Be Balanced in Love and Structure:
Children thrive with both unconditional love and structure. Keep routines and discipline consistent. This provides children with a much needed sense of security and safety.
Be an Active Listener:
Children need your love and support. Listen to their fears and feelings with an open heart. There is healing power in just being with a supportive listener; find space to be that person for your child. They do not always need us to fix it.
Be Patient:
Working through the intensity of grief takes time. The duration and cadence of grief is unique for us all. Children often move in and out of grief quickly. They may be withdrawn and sad one moment, active and playing the next. This is their healing process.
Be Available for Support:
It is nearly impossible to parent alone. Being all these things to your children is challenging. Find supports in your community, friends, and family. Reach out to others that are able to assist you. It really does take a village.
Finally, adopt the advice of the airlines. Take care of yourself first, this provides good role modeling and will give you energy to parent during this difficult time. The death of a loved one can feel like the world has shattered and shifted, we are often caught unprepared and feel ill equipped. Be kind to yourself as you discover the courage and commitment to continue each day with some grace and remembrance.
Recommended reading: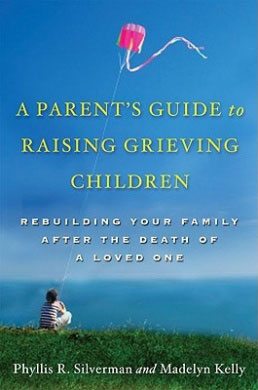 Parents Guide to Raising Grieving Children by Phyllis Silverman and Madelyn Kelly.
This Post Written By:
Caryn Kondo, MSW -Therapy With Heart
8737 E. Via De Commercio, Suite 200
Scottsdale, Arizona 85258
Phone: (480) 888-5380
Fax: (480) 203-2881
Email: Caryn@TherapyWithHeart.com
Website: https://therapywithheart.com